Senators Barack Obama and Hillary Clinton will appear today in Unity,
New Hampshire
where they fought to a tie in the primary to promote a unified general election effort.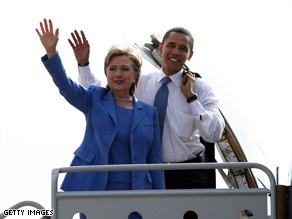 Sen. Hillary Clinton, left, and Sen. Barack Obama leave
Washington on Friday to fly to New Hampshire for a
rally (CNN).

Barack has asked his big
money
fundraisers to help retire Clinton's primary debt, and Clinton is urging her bundlers to support Barack's presidential
campaign
.
As expected, there was some talk about the possibility of an Obama-Clinton ticket. Terry
McAuliffe, Clinton's primary campaign manager said: "I think if she were on the ticket I think we honestly ... would control the White House for 16 years. But Sen. Obama's got to make that decision himself. He's got to do what he thinks is in the best interest of the campaign and country."

"Whatever he decides to do, whatever role for Hillary, she is ready to go. And she will do whatever they ask her to do in the fall campaign."